TREATMENTS WITH NATURAL HEALING SOURCE
Unique treatments using local natural healing resources generally include baths, wraps, inhalations and drinking cures. The success of the Karlovy Vary spa treatment is based on the extraordinary features of the local mineral water flowing from a total of 12 springs at temperatures ranging from 30 to 72 °C. The richest, largest and hottest spring Vřídlo is brought to the hotel. It is used for drinking cures, inhalations, irrigations, baths and underwater massages. Gas, salts, peat, and mud (peloids) are also used for treatments, especially for wraps and baths. And the place above the valley of the Teplá River has an indisputable influence on the regeneration of the organism, where you can clean your mind and strengthen your physical condition during walks.
Drinking cure
Karlovy Vary's mineral water used for a drinking cure comes from 12 springs, each of them having a different temperature (43 to 72 ˚C) and the amount of gaseous carbon dioxide. Thermal water is drunk before meal, slowly one sip after another, ideally during a walk. A drinking cup contains 2 dl of water and should be drunk over a period of 3−10 minutes, while another cup should be drunk in 5−10 minutes at the earliest. The mineral springs found in Karlovy Vary contain 47 elements which our body needs – they have positive effects on the digestive tract, metabolism, gum diseases, overall health quality improvement and stronger immunity against genetic and everyday stress burdens. The procedures provided by the company Imperial Karlovy Vary use the mineral water obtained from the Hot Spring which is supplied directly to the company's balneological center.
Contraindication: depending on a specific indication, on doctor's prescription only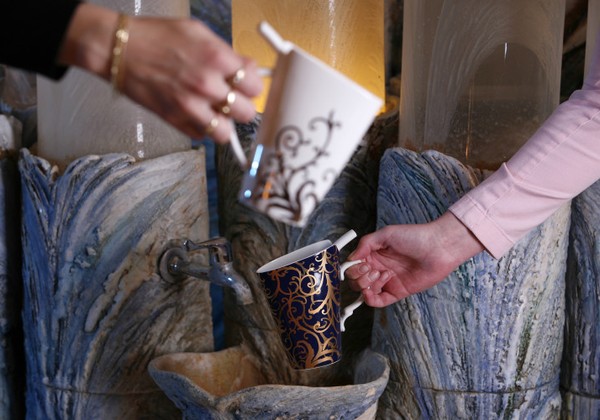 Bubble bath
A traditional spa treatment is the mineral bubble bath, which provides a micromassage of the skin and relaxation. It is recommended for people with musculoskeletal disorders, neurosis and hypotension. We use only spring water from local sources, which is rich in minerals.
Contraindications: skin mycotic and inflammatory diseases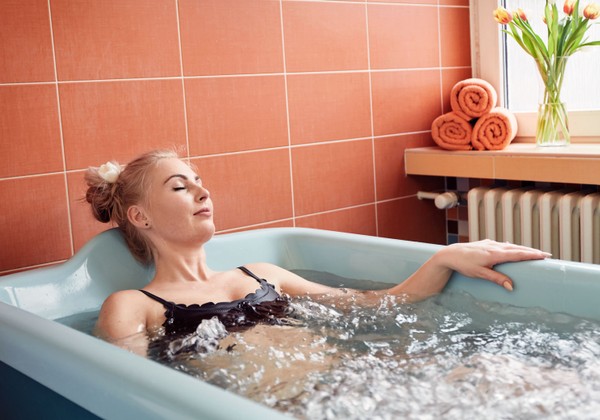 Carbon dioxide bath
Mineral carbon bath is taken in mineral water enriched with carbon dioxide whose absorption invigorates blood supply to the skin and muscles and even to the brain. As a result, the immune system is reinforced and the self-healing properties of the body are enhanced. This procedure also reduces blood pressure and leads to mental relaxation. It is also used during treatment of ischemic and cardiovascular diseases and during the later stages of heart attack treatment.
Contraindications: skin mycotic and inflammatory diseases, low blood pressure
Peat extract bath
Thanks to the total and prolonged peat extract, the skin is warmed and relaxed muscle and joint tension, blood circulation to the tissues, overall relaxation and a pleasant feeling of contact with natural healing sources. Your joints and spine will appreciate the perfect warm-up in a hot bath with natural peat.
Contraindications: none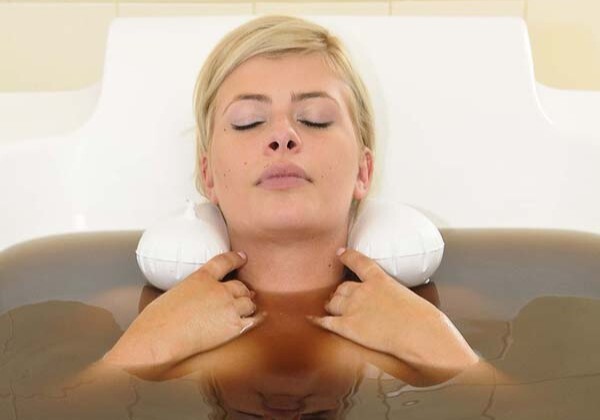 Karlovy Vary bath with Becherovka
Relaxing and warming bath with a blend of secret herbs from the traditional Karlovy Vary Becherovka. We prepare a unique infusion of medicinal herbs with a pleasant aroma, which we gradually pour into the warm bath. The bath prepared in this way has a completely beneficial effect on your whole body and mind, as it has relaxing and refreshing effects. It is especially recommended for overall body calming and for sleep disorders.
Contraindications: allergies to herbal admixtures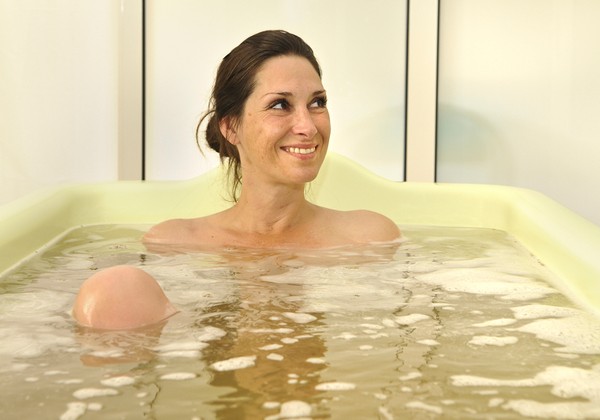 Mud wrap
Peloids, or peat, peat bogs and muds, are one of nature's true gifts. It is in essentially organic waste that has been transformed into this form over a long period of time. However, if you try our wrap, you'll find that the result is really worth it. Peloid wrap brings blood circulation, release of healing substances, relieves muscle, joint and spinal pain.
Contraindications: High blood pressure, varicose veins, pacemaker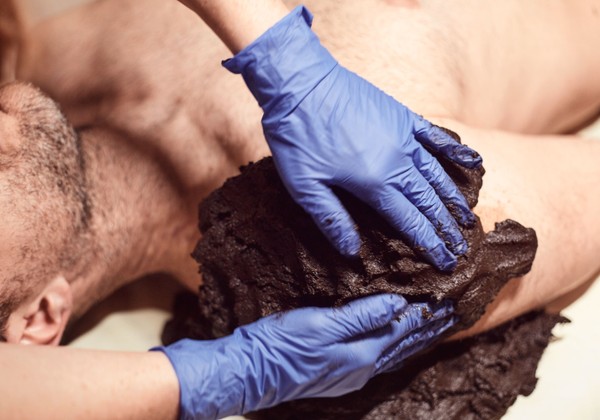 Inhalation
Inhalation is a suitable method to treat and prevent respiratory diseases. Inhalation of microscopic particles of mineral water produced by means of ultrasound improves lower and upper airway patency and helps to heal mucosal inflammation. Its benefit lies in strong targeted local effects which reach as far as the lower airways. Efficacy depends on the size of aerosol particles and on the contents of administered solutions. Hot spring water makes the effects of inhalation even more powerful.
Contraindication: serious hypertension, lung emphysema, TBC, tumors, cardiac insufficiency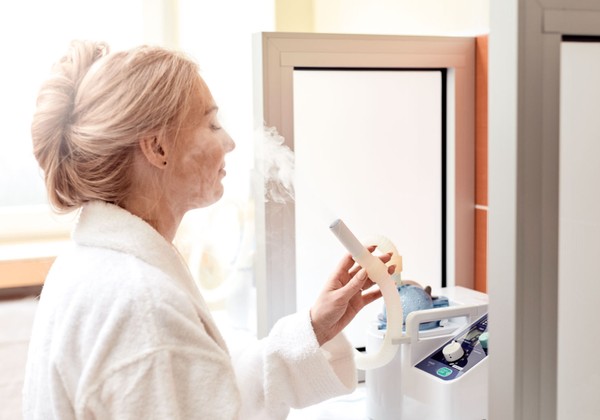 Gum irrigation
Oral irrigation provides an efficient way to manage paradontosis or to prevent its occurrence. A special tool is used to apply pressurized mineral water which massages and rinses the oral cavity including gums. It also has proven healing effects on the mucosa of the oral cavity.
Contraindication: It is advised to consult a dentist before application.
Gas carbon dioxide bath - partial
Partial dry CO2 bath
 Partial dry CO2 bath is a procedure during which an affected body part (usually spanning from feet to chest) is closed in a special bag which is then filled with gaseous carbon dioxide. Once the gas is absorbed by skin, the blood supply in the tissues is improved and regeneration and healing processes are thus promoted. Muscular fatigue disappears and blood pressure becomes optimized.
Contraindication: none